Marketing in the 21st Century can be described as an overly complex aspect of business process nowadays.  The digitalization of marketing processes is often linked with the proliferation of various social media platforms.  But here is a social media dashboard that's a cut above the rest.
ICONCEPT-SEO Analytics Dashboard allows the user to centralize overall digital marketing solutions.  These include search engine optimization (SEO), social media, and newsletter.
According to ICONCEPT President Marlon Owen Cruz, this dashboard is aimed at becoming a "one-stop" shop which is beneficial to clients who deserve a comprehensive review of the performance of its digital marketing campaign.
"The launching of the ICONCEPT-SEO Dashboard is the first part of our comprehensive reporting system centralization.  Now, clients can have a closer look at the performance of their online campaigns while managing their activities in different social media."
Cruz, who also acts as the Business Development Manager of the company, noted that aggressive businessmen are having a hard time logging in and out of different social media platforms and SEO tools such as website statistics service Google Analytics, which are obviously two extremely important aspects in today's marketing battle.  The dashboard aims to solve this problem.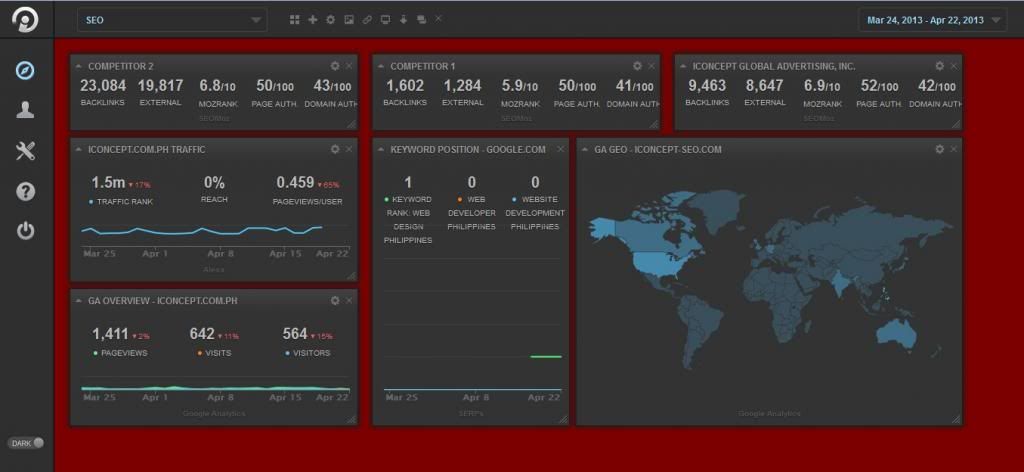 The Dashboard
In the ICONCEPT-SEO Dashboard, the user can have a direct comparison among competitors in terms of backlinks, page and domain authority.  Under the launched portal, user can also have an easy analysis of the social media activities.  Colorful graphs and visual representations are present to give the social media manager an estimation of a recent post's reach, number of views, clicks, likes, follows, retweet, and more.  Addition of widget is also supported.
Cruz shared that in the next few weeks, the team will be focusing on the development of the social media aggregator and SEO campaign tools integration, which will be placed in a separate portal.
"Ours is a combination of SEO, social media network monitor, mail system integration, CMS (content management system) integration, research tools, and two-way social media aggregation," Cruz explained when asked about the competitive advantage of the portal.
"Our dealings with several multinational corporations here and abroad remind me of the responsibility of every web design agency and digital marketing agencyy in the Philippines," Cruz said, adding, "At iConcept, we focus on giving clients tangible results that can become their bases for deciding whether we have brought their ideas to life or not."
"The last thing that we would do here is to allow clients to waste their investment on less reliable digital marketing campaigns.  Unfortunately, several businessmen have been victimized by fly-by-night marketing agencies in the Philippines.  ICONCEPT-SEO Dashboard aims to solve this dilemma by providing them a basis for intelligent decisions. Surely, this tool is necessary marketing ammunition in today's ever-competitive marketplace."